Best running Watches
Let's discuss about best running watches, Sport is a healthy activity that more people practice every day. In the case of our country, the Yearbook of Sports Statistics of 2018 shows that almost half of Spaniards, 46%, do so at least once a week. And one of the supplements that most athletes use to accompany their exercise sessions , especially in open spaces, are the GPS watches. Thanks to them they can keep a very complete record of their physical activities and create personalized training plans. Amazon also preparing a wearable.
It is enough to carry out an Internet search or visit the web pages of the manufacturers to check the wide range of models available in the market. We have set a goal: to find the best among all of them.
What models have we chosen for best running watches?
We have selected six models of different firms that are characterized by serving for the practice of a large number of sports. This sample also includes a varied range of prices, since the budget is not the same for everyone and because each user has different needs.
The chosen models were, in alphabetical order: Garmin Forerunner 645 Music(rated with an average of 8.5), Leotec Training GPS Total Heart (7), Polar M430(8), Suunto Spartan Sport Wrist HR Baro (8.25) ), TomTom 3 Cardio + Music + Headphones (7,75) and Xiaomi Amazfit Verge (7,75). For its analysis, several criteria have been taken into account:
Design : It is essential that a watch designed for sports practice offers a comfortable design to wear and that weighs little. Its resistance and durability are also valued in the training sessions.
Autonomy : This criterion is valued more and more. Do not forget that the battery life of a clock of this type is not the same if the GPS function is activated or not. At least it is desirable that you do not run out during training.
Heart Rate Monitor : Required to measure the heart rate and know in real time how the body responds. Currently, almost all models incorporate this feature, and the reliability of the information they show is good.
Precise measurements : GPS, cadence, stride length, accelerometer or altitude: The greater the precision of each of these measurements, the monitoring and analysis of sports practice will be more effective.
Maps : The possibility of dumping them on the clock makes it easy to consult the route to follow.
So we have tested best running watches
To check how each of these six clocks work, we have used them for two weeks. We have tested the battery life, especially in the sessions with GPS training, and we have also checked how they monitor and record different sports practices, mainly in running sessions , cycling and mountain outings.
The winning GPS sports watch has been the Garmin Forerunner 645 Music . We have been convinced by its design, the reliability of its measurements and how it responds in the training sessions. Since it is possible to store music in your memory, we can pair it with Bluetooth headphones to enjoy our favorite songs without carrying the phone on you.
1. Garmin Forerunner 645 Music: the winner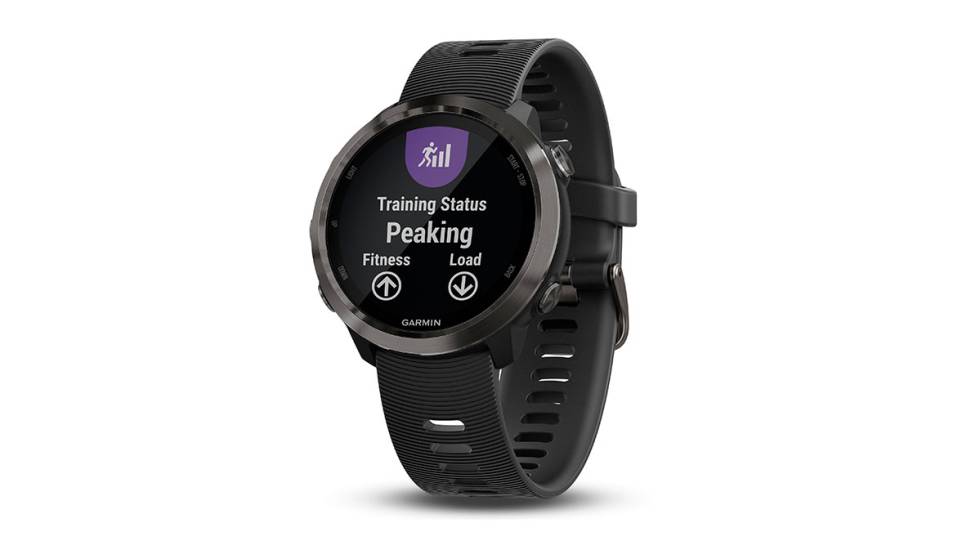 It adapts well to the wrist, and its 42.2 grams of weight make it a lightweight and comfortable to wear. In addition, it incorporates a stainless steel bezel that gives it a plus of quality. Its screen has a size of 1.2 inches and 240 x 240 pixels resolution; It is transflective - which guarantees that if it receives sunlight it looks good - and is protected by a Corning Gorilla Glass 3 glass, which offers greater protection against bumps and scratches. This one also among best running watches.
DATA SHEET
Display: 1.2 inches and 240 x 240 pixels resolution. Transflective and protection Corning Gorilla Glass
Dimensions and weight : 42.5 x 42.5 x 13.5 mm and 42.2 gr
Sensors : GPS, GLONASS, heart rate monitor, barometric altimeter, compass, gyroscope, accelerometer, thermometer
Compatibility: Android and iOS
Training functions : GPS speed and distance, activity profiles and customizable data pages, interval training, advanced sessions, downloadable training plans, maximum VO2, functions with Strava
Autonomy : smart watch mode: up to 7 days; GPS without music, up to 14 hours; and GPS with music, up to 5 hours
Others : water resistance, stainless steel bezel, Garmin Pay, 4 GB capacity to store and play music, smart notifications, weather forecast, sleep monitoring
With GPS and GLONASS positioning, its outdoor functions include, among many others, point-to-point navigation through routes created by the user with the Connect platform, an application that also serves to create personalized training sessions. These routes can also be imported from Connect IQ, another of the Garmin platforms, and through Strava applications . It also has the TrackBack option to return to the starting point following the route previously made. Points of interest can be registered.
Cycling, cardio, skiing or swimming in the pool are some of the proposed activity profiles. In races, some of the metrics that record are the cadence, the balance and the length of the stride. Meanwhile, an optical type sensor records heart rate thanks to Garmin Elevate technology. The internal accelerometer is automatically calibrated and also has a compass and barometric altimeter.
It can also be used as an MP3 player, since it incorporates an internal memory of 4 GB with capacity for 500 songs, to make payments with Garmin Pay - this functionality is still limited - and receive notifications from the mobile phone. The battery is the least attractive point, because with the GPS mode and the music function -one of the claims of the model- assets, the autonomy barely reaches 5 hours.
THE BEST : Full range of features and statistics, accuracy in your measurements, ease of use and option to use it as a music player.
THE WORST: The autonomy of the battery with the GPS and the function of playing active music is very limited.
VERDICT: A GPS sports watch with a resistant design and a detailed monitoring of sports practice that can also be used as a music player. Too bad that, when squeezed , the battery lasts so little.
2. Spartan Sport Wrist HR Baro: the applicant One of Best Running Watches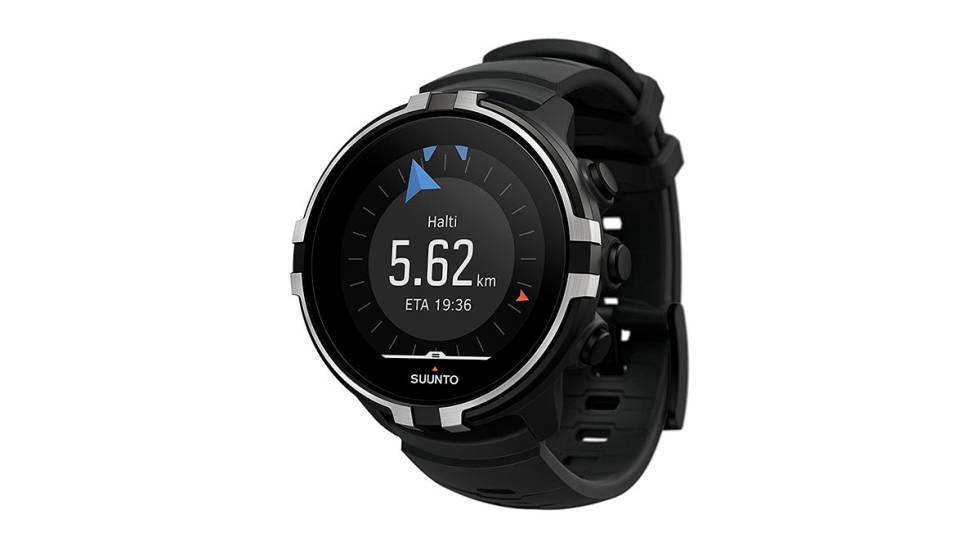 High mountain, skiing, triathlon, swimming - it is submersible up to 100 meters -, hiking, racing or cycling, are some of the sports practices in which this watch can be used. It weighs 74 grams and offers a high quality finish: The bezel is made of stainless steel, the lens is made of mineral glass and the polyamide shell is reinforced with carbon glass for durability and strength. The color screen, which has a resolution of 320 x 300 pixels, has automatic brightness and its visibility when it receives sunlight is good. In addition, it is tactile and incorporates three buttons on one of its sides for the user to interact as well.
It has a barometric altitude that, combined with GPS data, provides very accurate information about altitude. Meanwhile, its GPS tracking and navigation functions are very complete. One of the most striking is the planning of routes with thermal maps linked to the Suunto Movescount community; After registering, it is possible to import the routes that other users have created - an interesting option to discover new itineraries - and also upload your own to share them. Points of interest are also recorded and, for certain sports, the storm warning is a useful feature. This one also among best running watches.
It also does not lack the heart rate sensor and offers a range close to eight hours of use in GPS training mode. If the user activates his energy saving mode, this duration can be extended. It is also possible to use the watch to keep track of sleep quality and receive notifications from the mobile phone.
3. Polar M430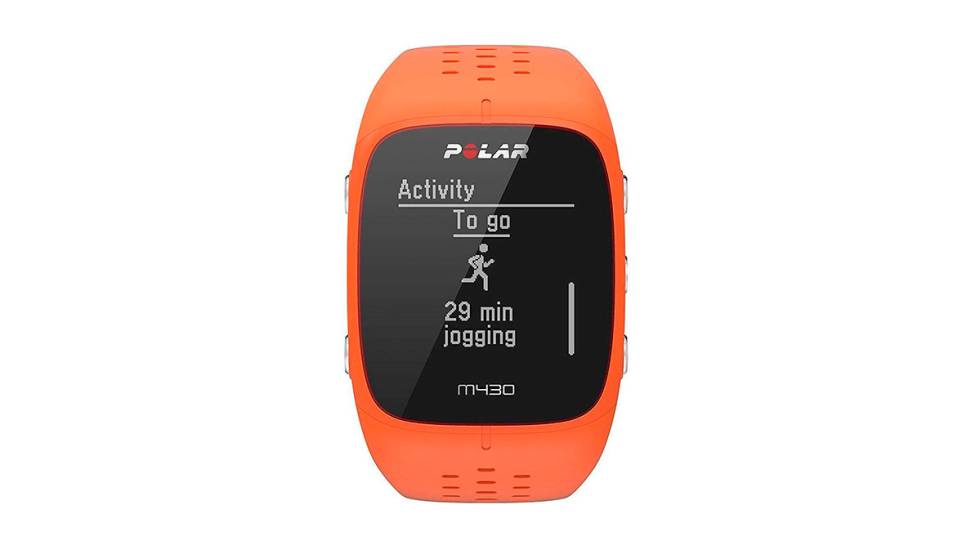 He came to the market taking over the M400 training watch and integrating some notable improvements, such as a wrist-operated heart rate monitor that includes LED lights, and which has proven to be quite accurate in his records. In addition, the battery has a greater capacity, which translates into more hours of use: By activating the heart rate sensor and GPS, its autonomy is very close to the eight hours promised by the manufacturer. This one also among best running watches.
This GPS, which captures the signal very fast, keeps track of the distances traveled and records parameters such as altitude, speed / pace, ascent and descent. In addition, its Back to Start function directs the user to the starting point where he started his training through the shortest distance possible. It also suggests several modes of use that directly influence the autonomy of the watch: a high precision, another medium and a third with energy savings. The least attractive part of the watch is that it does not offer the option to import routes.
It weighs 45 grams, is available in two sizes (S and M / L) and, although its screen does not turn out to be very attractive (it is monochromatic and has a solution of 128 x 128 pixels), it takes advantage of the available space and the shape in which it shows the information. On contact with light, readability is not affected. It can be used with different sports profiles and, in the case of runners, there is a customized training program for 5 kilometers, 10 kilometers, half marathon and marathon. Keep a diary of workouts, consult the calories burned in each session or keep track of the hours of sleep are other functions. By synchronizing with the Polar Flow application, a wide range of configuration and monitoring possibilities are opened to monitor the detailed activity.
4. TomTom Runner 3 Cardio + Music + Headphones One of Best Running Watches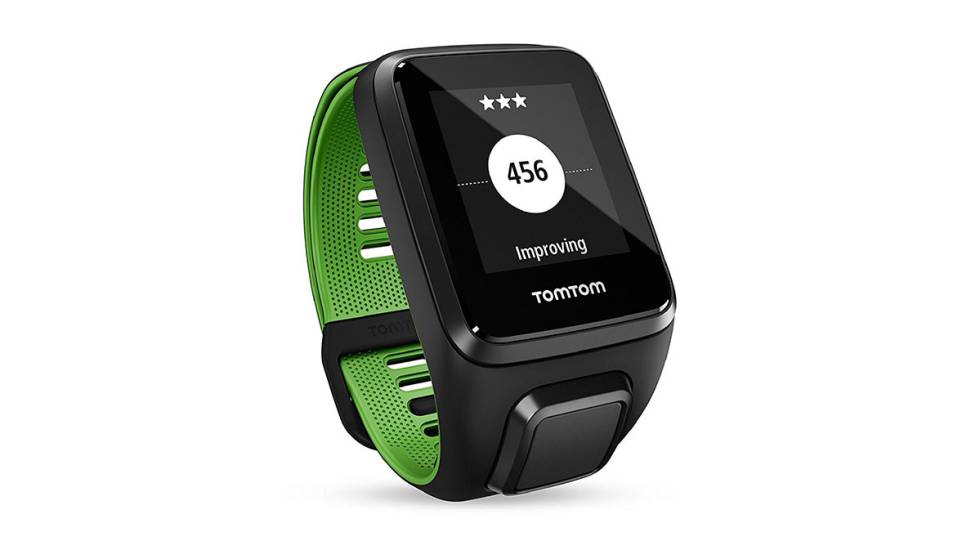 One of its most outstanding features is the exploration of routes, useful especially for users who ride bicycles, practice trailor they frequently organize trips to the mountain. In this case, it is possible to directly load the routes in the watch and import them not only from the computer, but from the mobile phone through Bluetooth with the TomTom Sports application, one of the platforms to create these routes is Google Maps. Once overturned, the maps are represented by a dashed line that marks the route and a small triangle is responsible for informing where we are. In addition to the location, the GPS provides data related to distance traveled, pace and speed. As a complement to this feature, the manufacturer has included a magnetic compass.
With integrated heart rate monitor, it provides water resistance, personalized training functions and intervals, activity monitor that records the calories consumed and measures the quality of sleep. Its integrated music player has the capacity to store 3 GB of songs, which can be played with the wireless headphones included in the box.
The watch weighs 50 grams and integrates a monochromatic screen of 22 x 25 mm; It is not tactile and is controlled by a square control button to scroll through the different options intuitively. The least we have been convinced is the quality of the strap and its closure system, which does not give us the safety of other models. In clock mode, the autonomy lasts several weeks, but when using the heart rate monitor, the GPS and the music player you have to charge the battery every two or three sessions. This one also among best running watches.
5. Xiaomi Amazfit Verge: best value for money One of Best Running Watches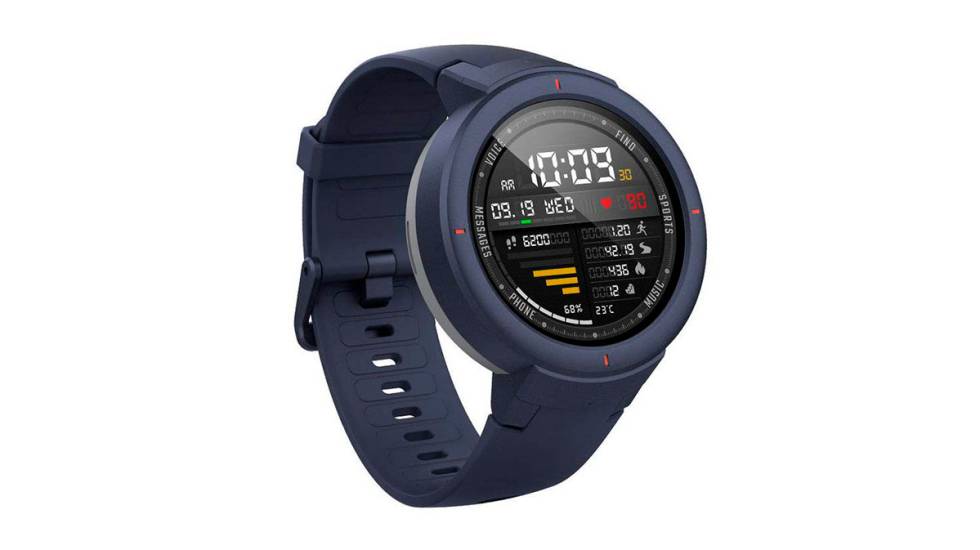 It weighs 46 grams and its design is water resistant - it has an IP68 certification. The screen, which has a size of 1.3 inches and 360 x 360 pixels resolution, employs AMOLED technology and offers good definition and representation of colors; Of course, in open spaces it is recommended to put the maximum brightness. With anti-fingerprint protection and Corning Gorilla Glass 3 technology as a reinforcement element, it is tactile, and the only physical button that the watch possesses is used to turn it on and off. Surprise how well it responds to touch on its surface and how fast and fluid it is to scroll through its menu options. This one also among best running watches.
It integrates for it a dual core processor, a 512 MB RAM and a storage capacity of 4 GB, in which the user can save their favorite music and listen to it with a Bluetooth headset or through the built-in speaker. It can also be paired with the mobile phone: You have to use the Amazfit application, for Android and iOS, and it is especially good for configuring received notifications. It is also possible to answer phone calls, although the quality of the integrated speaker is somewhat limited.
It monitors and allows you to monitor the activity of up to 11 sports (running, elliptical training, tennis, soccer, cycling or trail , among others). Your GPS and GLONASS positioning system takes a while to take the position of the place where we are, but once it does, it records speed, pace and distance traveled. It is possible to download, on the other hand, maps that the clock shows in GPX format. It also offers heart rate sensor, compass, step counter, calories burned and sleep monitoring. The duration of the battery is five days.
6. Leotec GPS Total Heart Training: the most economical One of Best Running Watches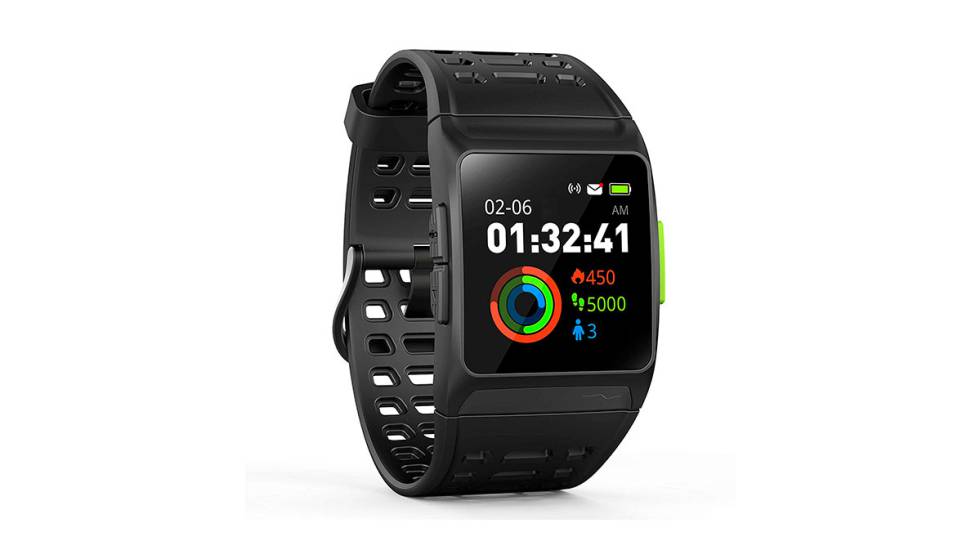 This one also among best running watches. A model aimed at users who have a tight budget, but who do not renounce to enjoy this kind of devices. Position, distance traveled, speed or altitude are some of the parameters recorded by your GPS chip, which determines the place where we are quickly. With a color touch screen, it can be used in 17 sports practices to monitor and track training sessions: mountaineering, climbing, cycling, basketball or tennis, among others. It is also suitable for swimming, thanks to its IP68 certification to submerge it up to 50 meters.
For the runners , it suggests up to eight different running modes and the manufacturer, on one of the sides of the watch, has located a specific button that activates this sport. It also records the heart rate and has a feature called HRV (Heart Rate Variability), which is responsible for conducting an assessment to determine the status of the body and optimize sports performance. This one also among best running watches.
Stopwatch, pedometer, sedentary alert, monitoring of sleep hours or calorie meter burned are other features included. It also allows receiving notifications of calls or messages if it is paired with the mobile phone through an application for Android and iOS. However, we believe that it is more interesting compatibility with other applications such as Strava, well known among cyclists and runners, or Apple Health and Google Fit, which promote healthy lifestyles and help keep track of physical activities. The battery has to be charged every two or three days. What we liked the least is its finish, not as attractive as other watches, and its weight of 80 grams.
I do not put limits when choosing a device and squeeze as much as possible, as a good consumer of technology. I hope you liked knowledge base article from My Hack Stuff.